Participating schools and organisations, from across England, come together to collectively showcase their echoes, either through exhibition or performance, all artwork is inspired by their survivor testimony.
Schedule
17-28th Jan 2022
Film exhibition – Kings Cross Station
2-minute film, showcasing Echoes based on survivor testimony, was shown on LG Foster screens at train stations throughout England.
24th Jan 2022
The Great Sew
In November 2021, partners were invited to create individual patches, in response to survivor testimony.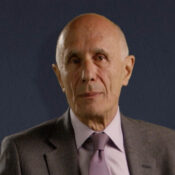 25th Jan 2022
Survivor Visit
Peter Lantos (Holocaust Survivor) spoke to students from across CORE schools and Dulwich College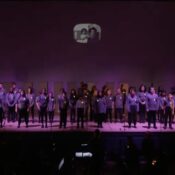 26th Jan 2022
Echo Eternal: Horizons 2022
Performance at Town Hall Birmingham by CORE, Dulwich College and LIPA Students. Supported by the Royal Birmingham Conservatoire and Autin Dance Theatre
28th Jan 2022
Anti-Semitism Symposium
10am – 11am: Student session on Anti-Semitism 3:30pm – 4:30pm: Teacher session on Anti-Semitism
---
Photo gallery